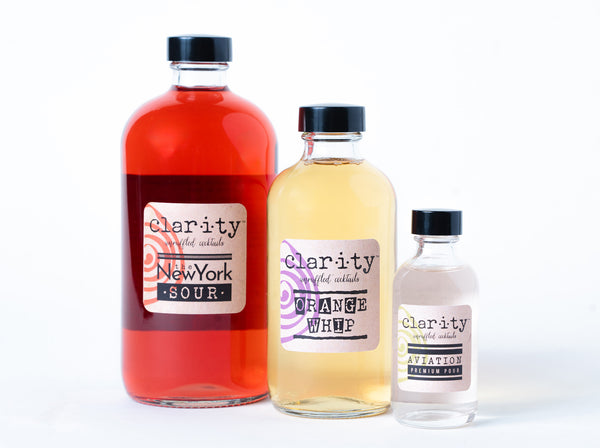 Holiday Season Clarity Cocktail 24-Pack Gift Boxes
Available Exclusively at Twisted Lemon!
Complex cocktails with no mixing or shaking!
Just pour over ice & enjoy!
Liquid alchemy and an all natural clarification method of removing solids, transforms classic concoctions into shelf-stable, clear, refined cocktails, with rounded out cohesive flavours!
Orders available for pickup at Twisted Lemon Restaurant or contact us directly for delivery options and custom orders!
Every order comes with a bag of our signature lemon-pepper twists!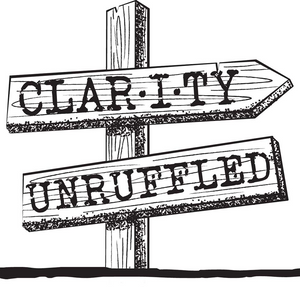 The Clarity Story
CLAR•I•TY (noun)
When the mind is free from fear & ego.
UNRUFFLED
Poised & serene especially in face of setbacks or confusion.
View Full Story
clarity cocktail concoctions

RON BURGUNDY
Premium Pour | ABV 22%
Auchentoshan American Oak Single Malt Scotch Whisky, Luxardo Cherry Sangue Morlacco, grapefruit juice, lemon juice, brown sugar syrup, Angostura bitters.

SAZERAC
Premium Pour | ABV 27%
Canadian Club Classic Aged 12 yr Rye, Courvoisier VS Cognac, Lucid Absinthe, lemon juice, sugar, Peychaud's & Wormwood bitters.

FRESCO SOUR
ABV 18%
Canadian Club 100% Rye, Disaronno, lemon juice, simple syrup, Hella Aromatic bitters.

PAPER PLANE
Premium Pour | ABV 22%
Makers Mark Bourbon, Aperol, Amaro Nonino Quintessentia, lemon juice.

THE NEW YORK SOUR
ABV 19%
Knob Creek Bourbon, Taylor Fladgate LBV Port, orgeat *contains almonds*, lemon juice, Angostura bitters.

JUNGLE BIRD
ABV 15%
Brugal Anejo Rum, Campari, Sperone Cremovo Marsala, pineapple juice, lime juice, roasted brown sugar syrup.

BERRY GARCIA
ABV 13%
Sailor Jerry Spiced Rum, blueberry shrub, cherry broth, dark berry juices, lime juice, ginger, vanilla.

RUM PUNCH
ABV 19%
Captain Morgan Dark Rum, Malibu Rum, Marquis de Villard Brandy, star anise, cinnamon, nutmeg, lemon peels, pineapple & lemon juices.
JUMPER CABLES
ABV 17%
Brugal Anejo Rum, Crème de Cacao, Franjelico, Relay Coffee cold brew espresso, lemon, cinnamon, nutmeg.

PINE & GINGER
ABV 17%
Appleton Estate Signature Jamaica Rum, Wray & Nephew Overproof Rum, pineapple skin, ginger & cane sugar puree, lime oleo saccharum, allspice, ginger & lime bitters.

NEGRONI
ABV 19%
Tanqueray Dry Gin, Campari, Dillon's Small Batch Sweet Vermouth, orange juice, grapefruit juice, lime juice, orange oleo saccharum.

AVIATION
Premium Pour | ABV 24%
Aviation Gin, Luxardo Maraschino Cherry Liqueur, Kinsip Wild Violet bitters, violette syrup, lemon juice.

PURA VIDA
ABV 15%
Lavender-infused Sipsmith Gin, Tanqueray Rangpur Gin, St. Germain Elderflower Liqueur, lavender tea syrup, lemongrass kombucha, lemon juice.

TL CAESAR
Medium or Spicy | ABV 15%
Alberta Pure Vodka, Clamato juice, fresh lime, sriracha, horseradish, Worcestershire sauce, celery bitters, salt & pepper.

SMOOTH MOVES
ABV 17%
Northern Keep Vodka, infused with cracked cinnamon, Galliano, honey, lemon juice, turmeric broth, ginger juice, vanilla.

PALOMA
ABV 18%
Hornitos Plata Tequila, grapefruit juice, lime juice, agave nectar, a pinch of salt, pink grapefruit & agave bitters.

I CARRIED A WATERMELON
ABV 17%
Hornitos Reposado Tequila, Martini Dry Vermouth, watermelon juice, lime juice, sugar, vanilla, rhubarb bitters.

L.I.T.
Premium Pour | ABV 21%
(Long Island Iced Tea). Pinnacle Vodka, Beefeater London Dry Gin, Jose Cuervo Tradicional Plata Tequila, Captain Morgan White Rum, mcguinnes triple Sec, lemon peel, Coca Cola, lemon juice & essential oil syrup.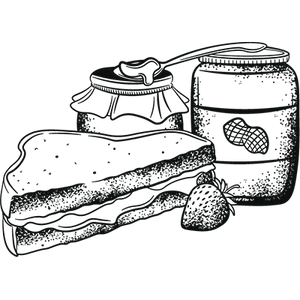 PB & J
Premium Pour | ABV 22%
Skrewball Peanut Butter Whiskey, Absolut Juice Strawberry Edition Vodka, strawberry syrup, creamy and dehydrated peanut butter, lemon juice, and vanilla.

Orange Whip
ABV 17%
Alberta Pure Vodka, infused with orange zest, Bacardi White Rum, infused with bourbon-soaked vanilla beans, Crème de Cacao, Hewitt's Dairy French vanilla ice cream, orange juice, simple syrup, vanilla.