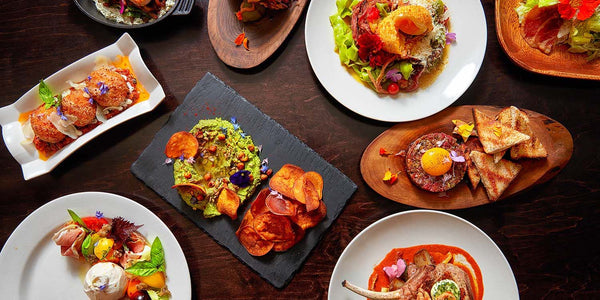 menu
Twisted Lemon Restaurant offers seasonal and locally inspired cuisine, exciting monthly features, and house-made desserts. We look forward to welcoming you soon, to the heart of everywhere!
Dinner Menu
DINNER MENU
Appetizers
SMOKED PORK & BEER FRENCH ONION SOUP | 14
"Mmmmmmm, sounds good. I'll have that".
BEET & CITRUS SALAD | 17
Roasted beets, baby greens, citrus segments, candied walnuts, herbed goat cheese mousse, blueberry vinaigrette, apple-balsamic reduction.
GREAT CAESARS TOAST | 16.5
Whipped Clarity caesar curds with mascarpone cream cheese, grilled tiger shrimp, house pickles, proscuitto chips, garden basil oil, shaved parm.
CAESAR SALAD | 15
House-made dressing, bacon onion jam on grilled house bread, baked parmesan crisps, crispy prosciutto. Lettuce may change during garden season.
EDAMAME HUMMUS | 16
Edamame hummus with lemon garlic & tahini, fresh garden basil oil, crispy chickpeas, toasted seeds, smoked paprika. Served with lemon pepper rice chips.
*vegan/plant based/gluten-free
DUCK CONFIT TACOS | 18
Slow braised Duck confit with natural jus in crispy wonton shells, red cabbage slaw, charred tomato salsa, chipotle aioli. Favourite dish of rock star Rino "I Love You Man" Pirro.
"THE GENEREAL" ARANCINI | 17
Rich & creamy risotto balls stuffed with havarti cheese, breaded & fried golden. Served on a muffaletta bacon tomato sauce, dijon mustard cream, shaved parmesan & finished with basil oil.
ENJOYING THE TWISTS?
Take a bag home for $5. Just ask your server.
DON'T FORGET...
For all of our new features, menus & fun stuff happening sign up to our weekly news letter at twistedlemon.ca.
"Fine dining is about great food and great service & is an experience all should enjoy".
– Chef Dan & Laurie
MAINS
SWEET POTATO GNOCCHI | 28
Hand-rolled sweet potato & Yukon Gold potato gnocchi, mushroom-sage cream sauce, blistered tomatoes, crispy potato skins.

TL POWER BOWL | 27
Wild rice, roasted sweet potato, seasonal vegetables, quinoa, chickpeas, dried cranberries, pumpkin & sunflower seeds, tomatoes, pickled cucumber, edamame, apple-balsamic reduction and roasted garlic-lemon tahini dressing.
*vegan/plant based/gluten-free

PICKEREL | 32
Caribbean-crusted pan-seared Lake Erie pickerel. Wild rice/red quinoa & edamame. Sweet potato/banana fritters, coconut-lemon beurre blanc.

CHICKEN & WAFFLES | 29
Buttermilk southern-fried chicken with a cornbread waffle. Garden greens. Finished with pumpkin seed pesto, apple-balsamic reduction & creole ranch drizzle.

FETTUCCINE CARBONARA | 28
14-hour slow-braised ham, hand-rolled spinach fettuccine in a classic egg, white-wine & parmesan emulsion; crispy-fried soft-boiled egg.

"THE GRUMPY" FRIED LASAGNA | 31
Seven-layers stuffed with grilled Italian sausage, sun-dried tomato & ricotta cheese mousse. Breaded & deep fried on a bed of "grumpy" sauce, finished with asiago-artichoke cream & shaved parmesan.

BONE IN PORK CHOP | 39
10oz grilled, pastured pork chop from VG meats, warm German potato salad with green beans, coconut buffalo bbq sauce, crispy onions, garden herb butter.

WILD BOAR | 48
Pepper-rubbed wild boar tenderloin, potato latkes, brussel sprouts, asiago-artichoke cream, lemon-rhubarb preserve, natural jus.

PORK BELLY & SCALLOPS | 55
Slow roasted local pork belly, with pan-seared & butter basted jumbo scallops, butternut squash purée, confit potatoes, apple fennel & pea shoot salad, with maple vinaigrette.

BEEF TENDERLOIN | 52
7oz AAA VG meats beef tenderloin, duck-fat bacon & potato croquette, seasonal vegetables, blue cheese butter, natural jus.
---
Add to any dish
BUTTER-POACHED TIGER SHRIMP | 14
SAUTÉED MUSHROOMS & ONIONS WITH HERB BUTTER | 9
SEARED & BUTTER BASTED SEA SCALLOPS | 19.5
---
All menu items are at Chef's discretion & are subject to change at any time. While quantities last. Please advise us of any food allergies or dietary restrictions at time of booking/ordering.
---
"Worth the drive! The food is passionately prepared and absolutely delicious. The menu is unique with exquisite options. Chef Dan took the time to visit every table. We've travelled all over the world and Twisted Lemon is still one of our favourite dining restaurants. This is place deserves all the stars."
Katie Morrison from Niagara Falls
"These are not just people running a business. They are the most amazing human beings who go above and beyond and literally create magic with their food and cocktails and deliver high-quality service. I feel blessed that we have such an amazing local business that is so committed to our community."
Meghan Brady from Caledonia
"Twisted Lemon is one of those hidden elevated gems, you can't believe you didn't know about already."
Spicy Jan
"Always amazing menu with a twist to original dishes. We have visited this restaurant several times over 8 years ago and recently returned and not surprised to see it still remains on top of our fine dining list. Great service made our dining experience wonderful."
Joy R. from Toronto
"We got to sit next to the kitchen and watch the chef and crew at work. It was so exciting and fun to watch. The food was cooked perfectly and tasted delightful. Would highly recommend this restaurant for consistent, delicious and exciting food."
Laura R. from Seattle
"An absolutely amazing place to dine. The chefs create amazing food. Tastes and looks amazing. We always return. Can never thank Chef Dan and his staff enough."
Tim Ballard