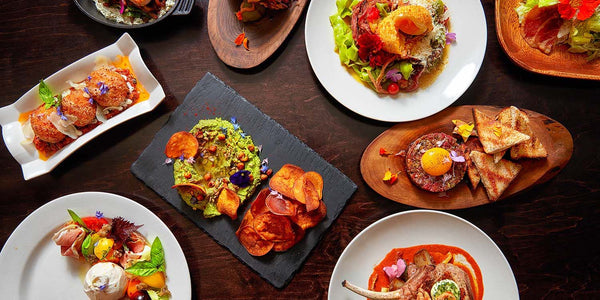 menu
Twisted Lemon Restaurant offers seasonal and locally inspired cuisine, exciting monthly features, and house-made desserts. We look forward to welcoming you soon, to the heart of everywhere!
Bar Menu
BAR MENU
FEATURE COCKTAILS
Seasonally-inspired & created with passion, integrity & Made Love! With an emphasis on locally sourced, house-made ingredients, quality spirits & layers of flavour in each unique concoction.
PEAR MARTINI | 16
Kettle One Vodka, toasted cardamom & vanilla bean infused Bartlett pear shrub, dash of Gilliano, finished with fresh-grated cinnamon, Scrappy's Cardamom bitters & dehydrated pear.
APPLE GIN FIZZ

 | 15

Tanqueray Gin, apple cider, fresh-squeezed lemon, honey-apple syrup, egg white, cinnamon, a splash of soda water, finished with Barkeep Apple Organic Bitters.
BLUEBERRY MULE

| 15

Alberta Pure Vodka, blueberry shrub, ginger beer & a splash of soda with vanilla-vodka infused blueberries.
NITRO COFFEE MARTINI | 16
Relay Coffee house-made cold brew coffee, Kahlua, Northern Keep Vodka, Galliano, Bittermens Xocolatl Mole bitters, grated Guatemalan chocolate.
TL CLASSIC CAESAR | 15
Alberta Pure Vodka, Clamato juice, fresh lime, sriracha, horseradish, Worcestershire sauce, celery bitters, salt & pepper. Regular or Spicy.
BOURBON & BLACK CURRANT SOUR | 16
Knob Creek Bourbon, Taylor LBV Port & a splash of Cointreau, black currant, lemon juice, vanilla, egg white & Angostura bitters.
WINTER MARGARITA | 15
Hornito's Reposado tequila, pear nectar, cranberry juice, fresh-squeezed lime juice, pomegranate syrup, finished with a salted chili-lime rim & Grand Marnier-soaked cranberries.
SPRUCE TIP OLD FASHIONED | 16
Reifel Canadian Rye Whisky, locally foraged spruce tip syrup, Free Pour Jenny's Spruce Tip bitters.
PUMPKIN-SPICE MANHATTAN | 16
Dillon's Rye Whisky & Small Batch Red Vermouth, pumpkin pie-spiced syrup, Dillon's Orange & Top Shelf Allspice bitters, garnished with 'pickled pumpkin'.
"Nothing makes us happier than for you to enjoy your time with friends & family & so we raise our glass to you!
To your health & happiness, with peace, laughter & good vibes!" 
---
SPIRITS
Included: choice of ice, soft mix or garnish.
For Martinis & Classic Old Fashioneds or Manhattans, add $2 to the 2 oz pour price.
RAIL SPIRITS - 1oz | 2oz
VODKA - Alberta Pure  6.5 | 11
GIN - Tanqueray London Dry  6.5 | 11
RYE - Canadian Club 100%  6.5 | 11
SCOTCH - Dewars  6.5 | 11
BOURBON - Jim Beam White Label  6.5 | 11
RUM - Bacardi Superior White  6.5 | 11
TEQUILA - Reposado  6.5 | 11
VODKA - 1oz | 2oz
Northern Keep  7 | 12
Ketel One  8 | 14
Grey Goose  9 | 16
Belvedere  11 | 19
GIN - 1oz | 2oz
Collective Arts Artisinal  7 | 12
Sipsmith London Dry  8 | 14
Hendrick's  9 | 16
The Botanist Islay Dry  11 | 19
RYE WHISKY - 1oz | 2oz
Reifel  9 | 16
Dillon's Three Oaks  9 | 16
Alberta Premium Cask Strength  15 | 27
SINGLE MALT SCOTCH WHISKY - 1.5oz
Auchentoshan American Oak, Lowland  16
Bowmore 12 yo, Islay  19
Laphroaig Select, Islay  19
Highland Park Viking Honour, Island  24
Macallan 15 yo, Speyside  65
BOURBON WHISKEY - 1oz | 2oz
Maker's Mark  8 | 14
Basil Hayden's  11 | 19
Legent  11 | 19
Knob Creek Single Barrel  13 | 22
RUM - 1oz | 2oz
Captain Morgan Dark  6.5 | 11
Sailor Jerry Spiced  6.5 | 11
Appleton Estate Signature Blend  6.5 | 11
TEQUILA - 1oz | 2oz
Tres Generaciones  14
Cabo Wabo Reposado  14
Siempre Anejo  16
---
CRAFT BEER
Featuring Haldimand County's original craft brewery, 
CONCESSION ROAD BREWING CO.
 on tap.
DRAUGHT SELECTIONS
*Draught taps rotate regularly and might not always match the website*
JARVIS JACKASS - ABV 5.6%

 

| 8.95

When a cocktail and a beer are perfect for eachother. A collaboration between Twisted Lemon & our Friends at Concession Road. We put our spin on the classic mule cocktail & jacked it up with pineapple, lime & ginger.
FJORD OF DREAMS IPA - ABV 6.7% | 8.95
A hazy IPA brewed with Norwegian Kveik Yeast. Simcoe & Cashmere Hops.
FIREHOUSE BLONDE ALE - ABV 5.1%

 

| 8.95
A beautiful crisp, light & aproachable beer. As delicious as it is easy drinking.
Flight of all 3 Concession Road beers. Sample sizes.
SHEVCHENKO 9, EURO DARK LAGER - 

ABV 5%

| 8.95

Four Fathers Brewing Co., Cambridge.
 

Nutty, toasted chocolate malt sweetness with medium bitterness & a clean, crisp finish.
GOOD MONSTER , NE DIPA - 

ABV 8%

| 8.95

Collective Arts Brewing Co., Hamilton.
A "flavour explosion", New England-style IPA, double dry hopped with notes of tropical mango, passionfruit, juicy peach, orange, lemon & grapefruit.
NEEDS MORE COW BELL - 

ABV 4.4%

| 8.95
Oranje Son Brewing, Caledonia.
Belgian/American Wheat. Hazy golden with vibrant citrus notes & subtle banana. A blend of sweet & tangy, with a lingering tropical finish.
SOBER CARPENTER IPA - 

ABV 0.5%

| 8.95

Water, Malted Barley, Hops, Maltodextrin, Yeast.
Pale golden yellow colour, subtle orange & lemon citrus notes with understated piney green hop bitters. Tame carbonation, medium weight & smooth.
SOBER CARPENTER IRISH RED - 

ABV 0.5%

| 8.95

Water, malted barley, hops, yeast.
Clear, dark reddish brown, toasted & earthy malt. Medium bodied, bittersweet, with moderate carbonation.
SOBER CARPENTER WHITE - 

ABV 0.1%

| 8.95
Water, Wheat, Oats, Malted Barley, Hops, Orange Peel, Coriander, Maltodextrin, Yeast.
A balanced Belgian style white with a rich & hazy body.
---
WINE
HOUSE WINE BY THE GLASS
5oz - 9  |  9oz - 16
White | Chardonnay, Sauvignon Blanc, Pinot Grigio
Red | Merlot, Cabernet Sauvignon
SPARKLING, ROSE & ZERO ALCOHOL WINE BY THE BOTTLE
Bottle sizes are 750ML. *Unless noted
SPARKLING WINE & CHAMPAGNE
HENKELL TROCKEN PICCOLO, GER *200ML

| 17

Pleasantly fruity, rich & lively.
NORTH 42 DEGREES, BRUT ROSE, ON VQA | 67
Made from Cabernet Franc grapes. Pale straw & salmon colour, hints of strawberry, zest of lemon & mineral notes with balanced acidity.
TWO SISTERS, BLANC DE FRANC '17, ON VQA | 130

Traditional method, lemon, lime zest, white raspberries, cranberries, & subtle minerality. Crisp & fresh with a rich, creamy mouthfeel.
VEUVE CLICQUOT CHAMPAGNE, FRA | 135

Grapefruit, citrus peel, quince, toast & almonds. Med-bodied, creamy fine tannins. Silky texture.
POMMERY ROSE BRUT CHAMPAGNE, FRA | 150

Delicate pale pink, with red berry & fresh pastry notes, briny mineral flavours & a long finish.
WHISPERING ANGEL 2022, FRA *375ML 

| 54

Aromas of pomegranates, grapefruit, rosemary, lavender & peaches. Med body & bright acidity.
NORTH 42 DEGREES, ROSE, ON VQA

| 58
Made from Cabernet Sauvignon grapes, this dry rosé showcases freshly crushed strawberries, a playful wisp of cotton candy & a squeeze of lemon.
TWO SISTERS VINEYARDS, MARGO '22, ON VQA | 75

Chardonnay, Sauvignon Blanc, Riesling & Cabernet Sauvignon grapes. Fresh florals, bright red berry, rhubarb, strawberry & red currant, vibrant & spritzy.
ZERO-ALCOHOL WINES
Modern, world-class barrel-aged wines with zero alcohol.
ODD BIRD, BLANC DE BLANCS, FRA *200ML 

| 18

Sparkling wine made from Chardonnay grapes. Med-dry, crisp acid, notes of lime, green apples, yellow plum, hint of peach & light almond.
ODD BIRD, ORGANIC WHITE WINE NO. 2, FRA

| 70
Made from a blend of Auxerrois, Pinot Blanc & Riesling grapes. Honeycomb, almond & green apple on the nose, grapefruit & mineral on the palate.
WHITE WINE BY THE BOTTLE
Supporting our local Canadian wineries!
NEW & OLD WORLD WHITE WINES
PENINSULA RIDGE, INOX, UNOAKED CHARDONNAY '22, ON VQA | 53
Apple, pear & lemon aromas. Extra-dry with well balanced acid structure & citrus flavours.
MALIVOIRE, ESTATE GROWN CHARDONNAY, ON VQA | 62
Malivoire's sustainable winery's specialty. Baked apple, caramel, toasty oak & a mineral-laced finish.
JACOB'S CREEK, MOSCATO '22, AUSTRALIA | 59

Lightly bubly white wine with floral & ripe pear aromas. Nutty, berry & citrus notes. Mediumsweet, easy-drinking, with tropical fruit flavours. perfect to sip with dessert.
BREAD & BUTTER CHARDONNAY '21, CA USA | 60

Opens with vanilla bean & almond notes, crisp minerality & a hint of tropical fruit. Medium-bodied, slight oak & a buttery finish.
NORTH 42 DEGREES, SAUVIGNON BLANC '21, ON VQA | 59
Dry, refreshing, fruity. Juicy citrus notes of fresh lemon & lime, vibrant acidity & a whisper of minerality.
TWO SISTERS, SAUVIGNON BLANC '21, ON VQA

 

| 75 
Light, crisp & refreshing. Citrus & tropical nose with notes of lemon, lime, pear & pineapple. Medium bodied & well-balanced.
CONO SUR BICICLETA, VIOGNER '22, CHILI| 50 
Tropical fruit aromas with melon, peach & orange blossom notes. Dry, medium bodied. Flavours of grapefruit, peach, green apple & pineapple.
PELEE ISLAND, GEWURTZTRAMINER, ON VQA | 53

Pear, floral, lychee & melon aromas. Dry, light to medium bodied, with balanced acidity.
JEAN-MAX ROGER CUVEE MARNES ET CAILLOTTES,

SANCERRE '21, FRANCE

| 78

Fruit & floral tones, with richness, structure & minerality. This wine is consistently intense, complex, crisp & vivacious.
TAWSE, SKETCHES, REISLING '21, ON VQA | 69
Characteristic vibrancy, balance with concentrated apple, lime, peach, apricot & classic minerality.
ANGEL'S GATE, PINOT GRIS '21, ON VQA | 52
Pale straw colour. Fig & smoke aromas with a hint of nuts. Extra-dry & fresh with a nice balance of fruit & acid. 
OGGI, PINOT GRIGIO, IT

 | 50

Aromas of mushrooms & bread, nutty banana flavour, with a light fresh finish.
RED WINE BY THE BOTTLE
Bring your own wine corkage 40 per bottle.
NEW WORLD RED WINES
PETRICHOR, CABERNET/MERLOT '20, ON VQA | 56
A true reflection of Niagara's soil, balanced & fresh, with dark berry, oak spice, smoke & mineral.
KACABA, CABERNET SAUVIGNON '21, ON VQA

| 56
Plush & flavourful. Notes of fresh herbs, dark fruit, smoked & cured meats. Light-med body with fine tannins.
THE SHOW, CABERNET SAUVIGNON, '20, CAL | 60

A bold, juicy red with aromas of prune & smoky oak with floral, licorice & cassis notes.
JOSH CELLARS, CABERNET SAUVIGNON '20, CAL | 60

Ruby red in colour with ripe aromas & flavours of plum, floral notes, jam, candied fruit and baking spices. A rich, round palate with velvety tannins.
FLATROCK, PINOT NOIR '21, ON VQA | 64
Flat Rock Cellars specializes in crafting elegant Pinot Noir. Flavours of berry preserves, herbs, blood orange & watermelon.
MEOMI, PINOT NOIR '21, CAL | 65
Aromas of tobacco, dark red fruits & fresh berries. The rich cherry flavour is complemented by notes of cedar, raspberry & strawberry.
TWO SISTERS, MERLOT '18, ON VQA

| 90
100% estate-grown fruit, 31 month barrel-aged. Soft, supple & elegant. Enticing nose of ripe plums, raspberries & cherries, hints of allspice & fruit blossoms. Lusciously fruity palate with a surprisingly long & flavourful finish.
J.LOHR , PASO ROBLES, MERLOT '20, CAL | 55

Loaded with black plum, currant, violet, & baking spice. Savoury & vibrant.
ROSEMOUNT DIAMOND LABEL, SHIRAZ '21, AUS | 52

Deep purple red. Dark rye bread, blood orange & dark berry fruit with hint of chocolate. Bold with a spicy finish.
TWO SISTERS, ELEVENTH POST '18, ON VQA | 88
Merlot 48% Cabernet Franc 24% Cabernet Sauvignon 28%. Enjoyable balance & approachability with a nose of ripe dark fruits & distinct earthy notes. Layers of licorice, tobacco & chocolate with a lingering finish.
STAGS' LEAP, CABERNET SAUVIGNON '19, CAL

 | 140

Layered & complex, featuring aromas & flavours of chocolate, dried black plum, licorice & woodsmoke.
TWO SISTERS , CABERNET FRANC '18, ON VQA | 97
Aged in French oak. Dark fruits show first, dried tea leaves, leaves, sweet herbs, roasted peppers & white peppercorn.
LOST POET RED, 2020, CALIFORNIA | 59

Burnt embers, strawberry & coffee on the nose with flavours of toast & jam tapering toward a bonfire & cherry- vanilla finish. 68 % Merlot, 24 % Cabernet Sauvignon & 8% Petite Syrah.
OGGI, BOTTER PRIMATIVO (ZINFANDEL) '21, ITALY | 53
Medium ruby colour, aromas of black plum jam, spices & dried fig, med-full bodied, with spicy black fruit flavours.
ANCIANO, NO 7 RIOJA, TEMPRANILLO '16, SPAIN

| 57
Complex aromas of dark fruits, toffee, mineral & balsamic notes. Silky on the palate with balanced fruit & acidity & a spicy oaky note on the finish.
LEONARDO, CHIANTI FIASCO, ITALY | 57

Upfront aromas of licorice, coffee, dark fruit & chestnuts. Soft, balanced acidity.
VILLA ANNABERTA, AMARONE DELLA

 

VALPOLICELLA '19, ITALY 

| 80
Elegant & harmonious. Deep ruby in colour with aromas of dark fruit, licorice, fig & chocolate. Rich & silky with black fruit & spice with a long warm finish.
BOUCHARD & AINE FILS, BEAUJOLAIS SUPERIOR '21 FRANCE | 56
Med-bodied & dry. Dark fruit on the nose with red & black plums, berry & red pear notes. Light, balanced finish.
FAUSTINO I, GRAN RESERVA '11, RIOJA, SPAIN | 74
With a distinctive bottle & classic sandalwood, vanilla, strawberry preserve, floral & black olive notes, this is one of the most popular wines from this historic region.
CASTELLO DI NEIVE, BARBARESCO '19, ITALY

| 77
Characteristic floral notes with plenty of dark & red fruit, tobacco & spice alongside notable tannins.
MARCHESI DI BAROLO, BAROLO '18, ITALY | 90

Intense hibiscus, cornelian cherry, leather with smoke & a lifted minty complexity.
LA POSTA, PIZZELLA MALBEC '21, ARGENTINA | 58

Dense, dark berry flavours with a hint of spice & sandalwood.
---
"Worth the drive! The food is passionately prepared and absolutely delicious. The menu is unique with exquisite options. Chef Dan took the time to visit every table. We've travelled all over the world and Twisted Lemon is still one of our favourite dining restaurants. This is place deserves all the stars."
Katie Morrison from Niagara Falls
"These are not just people running a business. They are the most amazing human beings who go above and beyond and literally create magic with their food and cocktails and deliver high-quality service. I feel blessed that we have such an amazing local business that is so committed to our community."
Meghan Brady from Caledonia
"Twisted Lemon is one of those hidden elevated gems, you can't believe you didn't know about already."
Spicy Jan
"Always amazing menu with a twist to original dishes. We have visited this restaurant several times over 8 years ago and recently returned and not surprised to see it still remains on top of our fine dining list. Great service made our dining experience wonderful."
Joy R. from Toronto
"We got to sit next to the kitchen and watch the chef and crew at work. It was so exciting and fun to watch. The food was cooked perfectly and tasted delightful. Would highly recommend this restaurant for consistent, delicious and exciting food."
Laura R. from Seattle
"An absolutely amazing place to dine. The chefs create amazing food. Tastes and looks amazing. We always return. Can never thank Chef Dan and his staff enough."
Tim Ballard