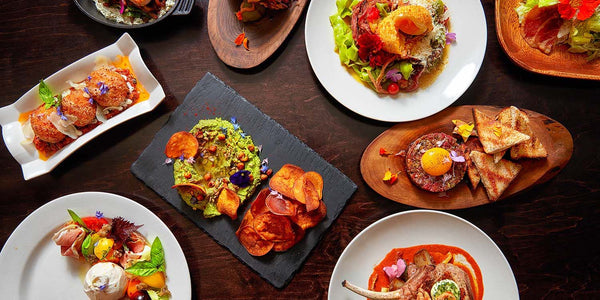 menu
Twisted Lemon Restaurant offers seasonal and locally inspired cuisine, exciting monthly features, and house-made desserts. We look forward to welcoming you soon, to the heart of everywhere!
Zero-Proof Menu
ZERO-PROOF MENU
Whether you're mindful drinking, sober curious 
or are craving a quality cocktail-style beverage that you won't feel the next morning, these non-alcoholic sippers are made with consideration for when you want all the flavour, without the hard stuff.
ZERO-PROOF COCKTAILS
LAVENDER LEMONADE

| 11

It takes both the "sunshine" (house-made lemonade) & the rain (lavender-infused butterfly pea flower tea syrup) to make this delicious colour-changing summertime treat.
BLUEBERRY MULE

| 10

Blueberry shrub, ginger beer, splash of lime juice & simple syrup. Served in a traditional copper mug with candied ginger.
FREE-SPIRITED CAESAR

| 11
Clamato juice, fresh lime, sriracha, horseradish, Worcestershire sauce, salt & pepper.
STRAWBERRY RHUBARB SPRITZ | 11
Fermented rhubarb syrup, strawberry puree, fresh lime, vanilla, splash of soda, garnished with a rhubarb pickle!
---
The following contain non-alcoholic spirits

& are adult-style cocktails
PINEAPPLE PASSIONFRUIT SOUR | 14
HP Non-alcoholic Agave, grilled & caramelized pineapple puree, passionfruit three ways (fresh, tea & syrup), lime juice, All The Bitter Alcohol-Free Aromatic bitters & a splash of soda water.
*without non-alcoholic spirit (suitable for all ages) - 11
CUCUMBER & WATERMELON MARTINI | 14
Monday Zero Alcohol Gin, juicy sweet watermelon, fresh cucumber & lime juices & garden mint syrup.
SPRUCE TIP OLD FASHIONED | 14
Monday Zero Alcohol Whiskey, house-made spruce tip syrup & All The Bitter Alcohol-Free Aromatic bitters.
RASPBERRY MANHATTAN | 14
Monday Zero Alcohol Whiskey, Martini Vibrante. Non-alcoholic Aperatif, warm-spiced raspberry syrup, All The Bitter Alcohol-Free Aromatic & Orange bitters.
NEGRONI | 14

Monday Zero Alcohol Gin, Novara Aperitivo, All The Bitter Alcohol-Free New Orleans Style bitters, orange wheel.
---
"Worth the drive! The food is passionately prepared and absolutely delicious. The menu is unique with exquisite options. Chef Dan took the time to visit every table. We've travelled all over the world and Twisted Lemon is still one of our favourite dining restaurants. This is place deserves all the stars."
Katie Morrison from Niagara Falls
"These are not just people running a business. They are the most amazing human beings who go above and beyond and literally create magic with their food and cocktails and deliver high-quality service. I feel blessed that we have such an amazing local business that is so committed to our community."
Meghan Brady from Caledonia
"Twisted Lemon is one of those hidden elevated gems, you can't believe you didn't know about already."
Spicy Jan
"Always amazing menu with a twist to original dishes. We have visited this restaurant several times over 8 years ago and recently returned and not surprised to see it still remains on top of our fine dining list. Great service made our dining experience wonderful."
Joy R. from Toronto
"We got to sit next to the kitchen and watch the chef and crew at work. It was so exciting and fun to watch. The food was cooked perfectly and tasted delightful. Would highly recommend this restaurant for consistent, delicious and exciting food."
Laura R. from Seattle
"An absolutely amazing place to dine. The chefs create amazing food. Tastes and looks amazing. We always return. Can never thank Chef Dan and his staff enough."
Tim Ballard