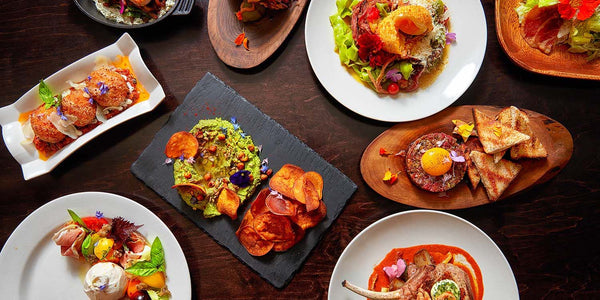 menu
Twisted Lemon Restaurant offers seasonal and locally inspired cuisine, exciting monthly features, and house-made desserts. We look forward to welcoming you soon, to the heart of everywhere!
Clarity Cocktail Menu
CLARITY COCKTAIL MENU
 Clarity Unruffled Cocktails. Thanks to liquid alchemy and an all natural clarification method using dairy*, which dates back three centuries, this fine selection of refined cocktails are exclusive to Twisted Lemon! With rounded out, cohesive flavours they range from crystal clear to opaque.
*Cocktails listed contain lactose & are not dairy free.
*Some spirits may contain gluten.
SINGLE POUR 4oz | 12
PREMIUM POUR 4oz | 14
TASTING FLIGHT* | 18
*Choose 3 flavours, 2oz each
+$1 per premium selection
---
Whiskey Cocktails
FRESCO SOUR | ABV 18%
Canadian Club 100% Rye, Disaronno, lemon juice, simple syrup, Hella Aromatic bitters.
THE NEW YORK SOUR | ABV 19%
Knob Creek Bourbon, Taylor Fladgate LBV Port, orgeat *contains almonds*, lemon juice, Angostura bitters.
SAZERAC | ABV 27%
Premium Pour
Canadian Club Classic Aged 12 yr Rye, Courvoisier VS Cognac, Lucid Absinthe, lemon juice, sugar, Peychaud's & Wormwood bitters.
RON BURGUNDY | ABV 22%
Premium Pour
Auchentoshan American Oak Single Malt Scotch Whisky, Luxardo Cherry Sangue Morlacco, grapefruit juice, lemon juice, brown sugar syrup, Angostura bitters.
PAPER PLANE | ABV 22%
Premium Pour
Makers Mark Bourbon, Aperol, Amaro Nonino Quintessentia, lemon juice.
---
Rum Cocktails
JUNGLE BIRD | ABV 15%
Brugal Anejo Rum, Campari, Sperone Cremovo Marsala, pineapple juice, lime juice, roasted brown sugar syrup.
BERRY GARCIA | ABV 13%
Sailor Jerry Spiced Rum, blueberry shrub, cherry broth, dark berry juices, lime juice, ginger, vanilla.
RUM PUNCH | ABV 19%
Captain Morgan Dark Rum, Malibu Rum, Marquis de Villard Brandy, star anise, cinnamon, nutmeg, lemon peels, pineapple & lemon juices.
JUMPER CABLES | ABV 17%
Brugal Anejo Rum, Crème de Cacao, Franjelico, Relay Coffee cold brew espresso, lemon, cinnamon, nutmeg.
PINE & GINGER | ABV 17%
Appleton Estate Signature Jamaica Rum, Wray & Nephew Overproof Rum, pineapple skin, ginger & cane sugar puree, lime oleo saccharum, allspice, ginger & lime bitters.
---
Vodka Cocktails
TL CAESAR | ABV 15%
Alberta Pure Vodka, Clamato juice, fresh lime, sriracha, horseradish, Worcestershire sauce, celery bitters, salt & pepper. Medium or spicy.
SMOOTH MOVES | ABV 17%
Northern Keep Vodka, infused with cracked cinnamon, Galliano, honey, lemon juice, turmeric broth, ginger juice, vanilla.
ORANGE WHIP | ABV 17%
Alberta Pure Vodka, infused with orange zest, Bacardi White Rum, infused with bourbon-soaked vanilla beans, Crème de Cacao, Hewitt's Dairy French vanilla ice cream, orange juice, simple syrup, vanilla.
---
Gin Cocktails
NEGRONI | ABV 19%
Tanqueray Dry Gin, Campari, Dillon's Small Batch Sweet Vermouth, orange juice, grapefruit juice, lime juice, orange oleo saccharum.
AVIATION | ABV 24%
Premium Pour
Aviation Gin, Luxardo Maraschino Cherry Liqueur, Kinsip Wild Violet bitters, violette syrup, lemon juice.
PURA VIDA | ABV 15%
Lavender-infused Sipsmith Gin, Tanqueray Rangpur Gin, St. Germain Elderflower Liqueur, lavender tea syrup, ginger kombucha, lemon juice, lemongrass bitters.
PALOMA | ABV 18%
Hornitos Plata Tequila, grapefruit juice, lime juice, agave nectar, a pinch of salt, pink grapefruit & agave bitters.
I CARRIED A WATERMELON | ABV 17%
Hornitos Reposado Tequila, Martini Dry Vermouth, watermelon juice, lime juice, sugar, vanilla, rhubarb bitters.
L.I.T. | ABV 21%
Premium Pour
(Long Island Iced Tea). Pinnacle Vodka, Beefeater London Dry Gin, Jose Cuervo Tradicional Plata Tequila, Captain Morgan White Rum, mcguinnes triple Sec, lemon peel, Coca Cola, lemon juice & essential oil syrup. 
P.B. & J. | ABV 22% *dairy free

Premium Pour

Skrewball Peanut Butter Whiskey, Absolut Juice Strawberry Edition Vodka, strawberry syrup, creamy and dehydrated peanut butter, lemon juice, and vanilla.
MINT CONDITION | ABV 22%

Premium Pour

Bottega Gianduia Chocolate Cream Liqueur, McGuiness Peppermint Schnapps, cacao nib-infused Wray & Nephew Overproof Rum, chocolate & peppermint teas, lemon juice, mint syrup, vanilla.
---
Clarity Order Forms are available for Take Home pricing for 8 & 16oz bottle sizes.
With gratitude, we raise our glass to you! May you find your Clarity & Joy in an Unruffled Day!
---
"Worth the drive! The food is passionately prepared and absolutely delicious. The menu is unique with exquisite options. Chef Dan took the time to visit every table. We've travelled all over the world and Twisted Lemon is still one of our favourite dining restaurants. This is place deserves all the stars."
Katie Morrison from Niagara Falls
"These are not just people running a business. They are the most amazing human beings who go above and beyond and literally create magic with their food and cocktails and deliver high-quality service. I feel blessed that we have such an amazing local business that is so committed to our community."
Meghan Brady from Caledonia
"Twisted Lemon is one of those hidden elevated gems, you can't believe you didn't know about already."
Spicy Jan
"Always amazing menu with a twist to original dishes. We have visited this restaurant several times over 8 years ago and recently returned and not surprised to see it still remains on top of our fine dining list. Great service made our dining experience wonderful."
Joy R. from Toronto
"We got to sit next to the kitchen and watch the chef and crew at work. It was so exciting and fun to watch. The food was cooked perfectly and tasted delightful. Would highly recommend this restaurant for consistent, delicious and exciting food."
Laura R. from Seattle
"An absolutely amazing place to dine. The chefs create amazing food. Tastes and looks amazing. We always return. Can never thank Chef Dan and his staff enough."
Tim Ballard